This particular scam targets seniors.
Grandparents are getting phone calls about one of their grandchildren. The grandchild is in some kind of legal trouble and needs money to bail them out. The caller has a lot of details about their grandkids. It sounds convincing. One senior even talked to his "grandson" who sounded like he had been hurt.
In an article from the FTC, all age groups report a loss with $2000 average per victim. However, that average loss skyrockets to $9000 average for seniors over the age of 70.  Up to $41M this year has been lost, which is almost twice as much as the $26M of last year.
One in fourteen responded to the scam last year, while one in four has responded this year.
Scams targeting seniors are having a greater success rate, which encourages the scammers to continue targeting seniors. The FTC urged those who get the call to not react immediately. Call the person in questions or their immediate family using their known numbers to validate the legal issue.
Let's take that one step further.
This crime is perpetuated by social media. A social media user must stay on top of their security controls and be aware of what they are posting about family. It is one of the reasons I have ceased to post when I am out of town, scaling back what information is available about me personally, which is hard since I am a weekly blogger and published author.
There is protocol to establish when using social media. Since most are on Facebook, let's start there.
Facebook
Do not ever accept friend requests from someone you do not know.

Do not ever accept friend requests from someone you think you are already a friend with. Check your friend list first before accepting a second request, which is most likely a scammer.

Use common sense when posting pictures. Internet trolls use public photos for advertisement. Some internet pictures have been made into porn. Could any of the pictures you want to be post be used in such a vile way? Then perhaps that picture  should not be shared, regardless of how cute it is.

Use common sense when reposting lost persons (kids or adults) or animals. Some of those from years ago remain active because of others reposting. Click the actual article you want to repost and get a news update or at least validate what year it was posted.

Implement strong security settings.  On your Home page, there is an arrow on the right hand side of  the top blue bar. Click it and go to Settings. On the left click Security and Login.


Do you know your Facebook password? It needs to be at least ten alphanumeric characters, both upper and lower case letters, with symbols. Do NOT use dictionary words or birthdates. Change your password if it does not meet this strong standard. Write it down because all your devices will need to be updated with this new password.
Again on the left side, click Privacy. #1 and #2 are so important because of your privacy settings.  Choose to have only friends see your posts and more importantly, keep others from viewing your friend list. Scammers who impersonate you will not be able to send a friend request to your friends if the scammer does not know who your friends are.
Timeline and Tagging. Friends can post on your timeline but choose "ONLY me" to approve what others post on your timeline.
Apps and Websites. You will be surprised at the permission most of these apps have from your Facebook account. View and edit each of these, including your birthday. Some of these apps may be connected, but some apps need to restricted from any personal information.
Instant Games. Many of you have kids/grandkids who access games on your phone, perhaps through Facebook. View and edit these to restrict as instructed above.
Instagram
Stick to the same guidelines for following in Instagram as friending in Facebook. Your security settings are a little trickier to find. Click your face (profile) and click the cog (looks like a wheel with bumps).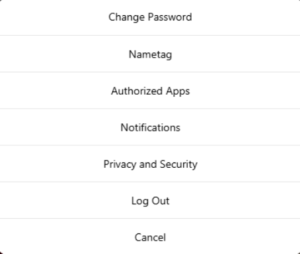 Change Password.

If you do not have a strong, secure password as discussed above, click Change Password. Do NOT use the same password for any of your social media accounts twice. Use different strong passwords.

Authorized Applications. Review as instructed above and eliminate any vulnerable personal information.
Emails and SMS.  I de-selected all of these in an effort to cut down on the hundreds of emails received daily. These options are ads.
Privacy and Security.  This is where most of the options needing review reside. Private Account – not public. Do not put your life out for the public to view. That makes you an easy target. The other options are preference.  I want to see Instagram activity and not allow others to share my personal posts. All of these can be changed at will. I add photos manually that I am tagged in, also giving me control over what is posted.
Please share this information with all your family – kids and seniors alike. The instructions are easy to follow.  I hope the instructions will be heeded and your personal information less easily accessed.
Once anything at all is posted on the internet, it lives on the internet.
It does not matter if it is deleted. We live in a draw-attention to ourselves social media age and I am amazed at what is posted under the guise of a fun friend "quiz." Social con artists use all the information gleaned from these posts. No one believes it will happen to them, until it does.
One of the greatest showcases of vulnerability a couple of months ago, was when everyone re-posted about being hacked on Facebook. It was a scam and a very well-played viral hoax causing panic across the world. Another hoax claimed Facebook was going to impede the news feed to 26 friends. Another hoax – Facebook is copyrighting everything we post.
When all the while, you were not hacked, Facebook is not controlling what you post and they are not copyrighting your material.
Those are hoaxes. The scams requesting money from anyone are real. They are targeted and they are intentional. The scammers cull the information they need from the internet to convince their victims to pay. Smart people are coerced into paying.
We must be wiser than the scammers.

I was recently told from a friend whose parent fell victim: they were embarrassed. Make this a point of discussion in your family.
My favorite news source, CBS This Morning, highlighted a segment by Anna Warner about the senior scam. Watch this compelling interview.
Discuss with all of your family prior to making any payment to anyone. Research the payment request. That includes the courthouse for a failed jury duty appearance or the IRS that says money is owed. There are both known entities; neither will call with threatening demands for payment.
Knowledge is power. Stay informed.