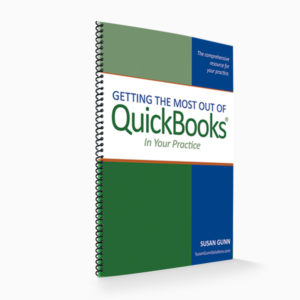 Getting The Most Out of QuickBooks In Your Practice
If this economy has taught us anything, it is that we MUST better understand our finances! Healthcare practices (dental, medical, veterinary, chiropractic) are dual accounting software systems. One software for accounts receivable (practice software) and one software for accounts payable (QuickBooks).
This book is the starting point in using QuickBooks Pro desktop version successfully in a practice, as it is specifically designed to create a back-to-back accountability between both software systems. Most practices are set up to track income and expenses for taxes only but this book takes you beyond taxes to managing the finances of your practice, with usable and understandable reports.
Years of teaching practices how to best implement QuickBooks in their practice, show through each page, as Susan carefully guides the users in the set up and implementation of QuickBooks.
Easy to understand, step-by-step instructions guide the reader through simulated tasks, such as:
entering deposits
writing checks
entering a bill and paying a bill
reconciling your bank statements
paying employees
paying taxes
and much more

Learn the necessity of an understandable Practice Management Chart of Accounts, Financial Organization layout, and using a Petty Cash Form. Sold internationally, this book is recommended for novice and skilled users alike.
---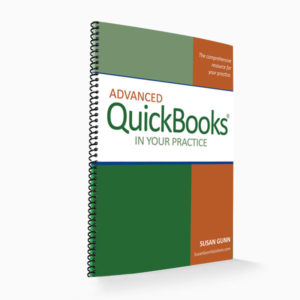 Advanced QuickBooks In Your Practice
Fine-tuning the skills of a basic user, this book goes beyond Getting The Most Out Of QuickBooks In Your Practice and is for practices that want to go beyond everyday use:
Online Banking – downloading bank & credit card transactions
Cash Flow Projector
Budgets
Employee advances & repayments
Journal entries
Loan Manager
Household Chart of Accounts
Separately Owned Facilities
Embezzlement protection
Weekly & Monthly Memorized Management Reports
And, new for 2020 – EIDL & PPP QuickBooks tracking
For use with QuickBooks Pro, this book is "Volume 2" of Getting The Most Out Of QuickBooks In Your Practice and is available for QuickBooks Pro versions 2018 – 2020 only.  216 pages packed full of information to help you design a successful business strategy using QuickBooks in your practice!
---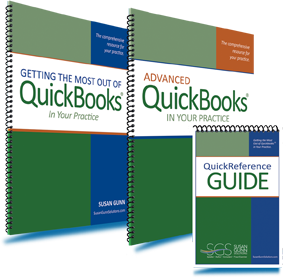 QuickBooks Complete Package
Save $$ money by purchasing the QuickBooks Complete Package, including:
Getting The Most Out Of QuickBooks In Your Practice
Advanced QuickBooks
The QuickReference Guide – a flip chart to sit on your desk of the most common tasks
Great value and information,  this is the vast QuickBooks library resource for your practice!
---
Money In, Money Out: Financial Organization In Your Practice available now on Amazon
Many have proclaimed this book "the must have book for any practice!"
Susan pulls from her 24 years of working with practices nationally to help them understand the business side of the practice and how to organize their financial information by implementing systems and procedures to help protect the practice from embezzlement. Valuable advice from notable industry thought leaders are included as well as great downloadable resources.
Susan's 40th book, Money In, Money Out offers readers a mesmerizing plot line about financial organization and the spellbinding romantic relationship between the three major players: #1 Accounts Receivable (Money In), #2 Accounts Payable (Money Out) and #3 what's left at the end of the day in your bank account!
Industry thought leaders include: Teresa Duncan, Kate Willeford, Theresa Narantic, Debbie Castagna, Virginia Moore, Sally McKenzie, and many more. This book should be read and implemented by every practice to organize the financial flow in a practice.
---
Matters Of The Heart: A Journey in Caring For Aging Loved Ones now available on Amazon
Susan actually began her business while caring for her aging parents. There were a few things she learned along the way and shares her heartfelt stories and checklists in this amazing book. If you are in the midst of caring for a loved one, you will not only find many helpful things in this book, but it will also be a great source of encouragement in the process.
From Susan:  At the end of my mom's life, she started encouraging me to write a book about our 16 year journey together. It took a few years and lots of conversations before I embarked on the journey of writing about it, though I had already written over 35 books of a completely different genre.
At the end of the writing, I wrote the book I wish I would have had before, during and after my care giving. The reader's responses have been an outpouring of gratefulness for the information and the honesty for which it was given.
For them, for you, I wrote this book.