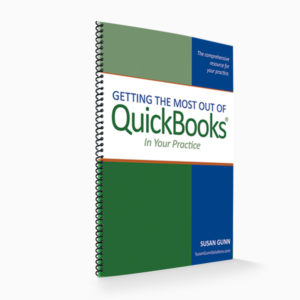 Getting The Most Out of QuickBooks In your Practice
If this economy has taught us anything, it is that we better understand our finances! This book is a complete reference regarding using QuickBooks specifically for your practice.
Easy to understand, step-by-step instructions guide the reader through simulated tasks, such as entering deposits, writing checks, entering a bill and paying bills, reconciling your bank statements, creating payroll, paying taxes and much more. Learn the importance of a Practice Management Chart of Accounts, Financial Organization layout, and using a Petty Cash Form.
Written by Susan Gunn and recommended for novice and skilled users, this comprehensive book takes you beyond tax accounting, to managing your practice and understanding your reports.
---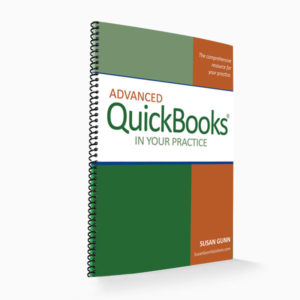 Advanced QuickBooks
This book is for practices that want to go beyond everyday use:
Online banking – bank & credit cards
Budgets
Staff advances
Journal entries
Cleaning up company data
Embezzlement prevention, etc. – not daily tasks
For use with QuickBooks Pro, this book is "Volume 2" of Getting The Most Out Of QuickBooks In Your Practice. Available for QuickBooks Pro versions 2018 – 2016 only.
This guide is an everyday convenient QuickBooks reference. Compact to stand beside your monitor, these guides provide concise steps to the top 15 tasks.
Also included is The QuickReference Guide solely containing precise steps with no narrative for easy reference!
---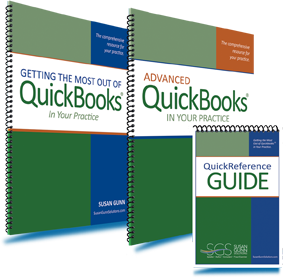 QuickBooks Complete Package
Save money by purchasing the QuickBooks Complete Package, including:
Getting The Most Out Of QuickBooks In Your Practice
Advanced QuickBooks
The QuickReference Guide
Great value and information, a vast QuickBooks library for your practice!
Visit our online store to purchase Advanced QuickBooks in Your Practice.
QuickBooks is a registered trademark of Intuit, Inc
---
Money In, Money Out: Financial Organization In Your Practice
Coming soon: September 2018