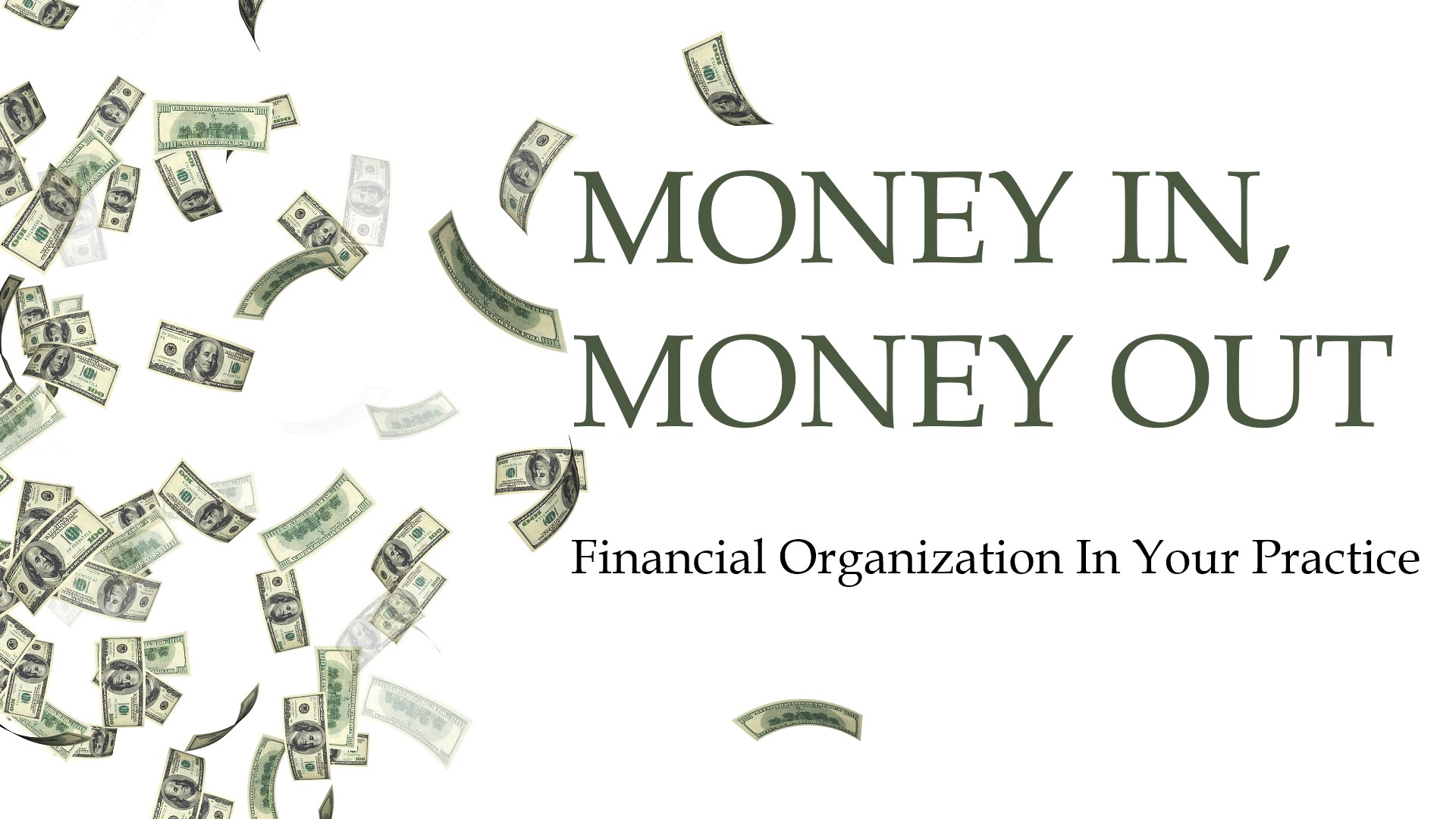 We are in the fourth season of

Money In, Money Out Podcast, launched March 14, 2020.  The landscape of our known economy, business and life has drastically changed. Based on her book, Money In, Money Out: $en$ible Financial Organization In Your Practice, Susan brings relevant information to help the financial flow of your business stay steady, as well as some unexpected tidbits.
Bookmark this page for weekly podcasts of valuable information or subscribe on iTunes, Spotify, TuneIn, or Stitcher.
---
November 17: Hire, Train and Retain with Stacie Humbles
  This fascinating high school principal has led the charge at analyzing the COVID affects of the past two years, not only on the students, but also the teachers and staff at her school. This podcast is very unique and insightful in the the often overwhelming difficulty of keepin a community in the midst of the pandemic trauma.
---
October 17: In The Embezzlement News: NonProfits, Bookkeepers & Tax Preparers
  What do these all have in common, I wonder? We have handpicked another round of a few dumbfounding DOJ fraud cases involving nonprofits, bookkeepers and tax preparers! Join us as we explore some of the interesting details of these cases and it will be quickly apparent how these cases caught our attention.
---
October 3: Saving Cents with Common Sense 
In light of the recent interest rate increases, in light of the potential of a financial crisis, in light of any future crisis, there are some common sense issues you need to be aware of and strategical tasks to implement. Let's talk about how to manage these issues in your business and in your personal life.
---
July 11: In The Embezzlement News: Can't Make This Up – Insurance Fraud
  As Certified Fraud Examiners, Janice Janssen and Susan Gunn bring you stories straight from the headlines of those who have chosen to commit fraud. These individuals believed they could get something for nothing. They believed the cost of having whatever they wanted, outweighed the cost of getting caught. But they did indeed get caught.
---
June 28: In The Embezzlement News: The Chrisley's – Do They Know Best?
  One of Susan's speaking presentations is called Unrelenting Greed. In not one of her embezzlement cases has the embezzler truly been in need. Co-host Janice Janssen and Susan discuss this particular recent headline case, The Chrisley's, based on the press releases of the Department of Justice.
---
May 25: Today We Remember
  Susan shares her personal thoughts around those lives not to be forgotten on Memorial Day. Do no let Memorial Day be the only day you pay respects to our fallen heroes and pray for those left behind, the gold star families.
---
March 10:  Cyber Security Home Edition with Debi Carr and Janice Janssen
  If you have not ensured that your home internet is secured, you will definitely want to listen as Cyber Security Expert Debi Carr joins Susan and Janice at the table to discuss what really needs to be done to protect your privacy from intrusion.
---
March 8: Securing Your Work Technology with Debi Carr and Janice Janssen
With much anticipation of imminent cyber warfare attacks, Cyber Security Expert Debi Carr discusses the four layer of protection that every business should implement.
---
December 20:  To Whom Much Is Given
  Susan is no stranger to the devastation of tornadoes, so when tornadoes deeply wounded familiar territory, it was time to state the obvious: it is going to take a lot of resources to recover.
---
December 6:  Holiday Edition: Fruitcakes and Fraud
  In this episode, Susan details the Collin Street Bakery Embezzlement case with Teresa Duncan. It was a small business with high revenues – sound familiar? Take the lessons from this intriguing case.
---
October 11: Enticing or Frightening – It's a SCAM with Janice Janssen.
  Everyone is a target for a well run scam. These scams are delivered to our unfiltered ears via in person, telephone, email and snail mail. And when it works, it compels the fraudster to keep trying for new victims.
---
Sept. 20: The Importance of Team Dynamics, As Seen Through Two Baseball Fanatics with Kevin Henry
 The final batter at Globe Life Park for the 2010 American League Championship was Susan's favorite personal moment of baseball. What do those winning moments teach us about Team Dynamics, which make the losing moments even more poignant? Colorado Rockies Sports Writer and Dentistry's Speaker/Consultant Kevin Henry joins Susan to rehash some of baseballs' greater and less than great moments in history, in relation to team dynamics.
---
Sept 6: Whistling Dixie in Dentistry with Teresa Duncan and Kevin Henry
In response to a recent dental industry magazine article regarding whistleblowers in the dental industry, Susan has invited colleagues Teresa Duncan and Kevin Henry to discuss this delicate issue.
---
August 23: Unforced Errors in Business with Theresa Narantic
  Unforced errors happen in every sport but did you know that unforced errors also happen in your business? There is so much to learn from sports and during recovery for my total knee replacement this summer, I watched back-to-back sports during physical therapy. Theresa Narantic, a dental consultant coach AND NCAA Division 1 Referee for 18 years brings some interesting insight to the conversation that leads the third season of Money In, Money Out.
---
June 7:  In The Embezzlement News with Janice Janssen: Intriguing PPP & EIDL Loan Frauds
  Straight from news headlines, PPP & EIDL frauds abound. It seems that the offer of financial assistance meant to help struggling businesses has brought out the worst in some people. Six out of 60 cases reviewed, including the first female accused of Cares Act Fraud.
---
May 24 : Working with Your CPA Should NOT Be Painful with Jody Catalanello and Linda Valencia
  A businesses' financial reports should contain accurate information and be easy to understand your business Money In, and Money Out. Practice accounting systems are NOT rocket science and should not be mysterious, withheld or difficult.
---
April 26:  Put Me In Coach with Lynne Leggett
  Sports has taught many of us invaluable lessons that we carry on throughout our lives. Some players become coaches themselves, Lynne Leggett, CEO of Victory Dental Management, being one of them. This episode is full of sports analogies and takeaways, so get your pen ready!
---
April 13:  Money Left on the Table with Teresa Duncan and Dana Moss
   If you are a practice that accepts insurance, you will not want to miss this episode. Listen in on what Teresa and Dana say are the biggest mistakes in filing insurance and how your practice can create a strategic plan in not going broke accepting insurance.
---
March 29: In The Embezzlement News with Janice Janssen: Faking Cancer for Gain
  In the news several years ago, was an embezzler who faked cancer to try and get out of prosecution. Janice and Susan could not believe the headlines then. With the continued like cases worldwide, they both decided this would make for an intriguing podcast. They will not disappoint!
---
March 15: Courageous Conversations Best Not To Avoid with Katherine Eitel Belt
Conflict. This past year has been packed with drama and conflict. 2020 reads like a well written novel. Enter the protagonist, aka COVID-19, who stirred up all sorts of angst and conflict amongst family, friends and communities. This is a must listen podcast for anyone and everyone.
---
March 1: Rare Words (and actions) that start with Ph, like Philanthropy with Theresa Narantic
 This past year has been like no other and the needs of those around us have been great. Theresa and Susan share their passion for philanthropy and talk about how to become philanthropic at any age with just a few coins.
---
February 15: Highlighting the Not-So-Ethical Shady Dental Practice with Teresa Duncan
  This impromptu podcast was a fun conversation discussing the traits and habits of a fictional practice, called Shady Dental.
---
February 1:  In The Embezzlement News: Dixon, IL with Janice Janssen
Another headline embezzlement scandal from Dixon, IL, where the City Comptroller steals millions, forcing the city to the brink of budget failure.  This was another lively discussion between two dental embezzlement experts!
---
January 18:  How Do The Wealthy Become Affluent with Kate Willeford
  The Millionaire Next Door is one of Kate & Susan's favorite books. This classic financial psychology book studies those with financial affluence common characteristics. Susan and Kate discuss three of the seven mentioned and you will be surprised what the authors discovered and its relevancy to professional practices.
---
January 4: Leading The Way Into The 2021 Unknown with Katherine Eitel Belt
  Opening the new year, Susan is joined with Katherine to talk about being a leader in the midst of the 2021 unknowns. How do we best apply the leadership lessons we learned in 2020?
---
December 21: Closing Out The Year with Kate Willeford, CPA 
Susan and Kate wrap up the year of podcasts talking about the current PPP forgiveness, reviewing your finances and steps you need to take to wrap up 2020.
---
December 7:  In The Embezzlement News: Lies Breed Lies. 
It is amazing in how little time that CARES Act fraud has hit the headlines. Inspired by two articles Susan read, she takes a hard look at these headline cases. Lies breed lies but honest can breed honesty and the importance of leading with integrity plays.
---
December 2:  Holiday Edition: Fruitcake and Fraud – The Collin St. Bakery Embezzlement
on

Nobody Told Me That
podcast with Teresa Duncan.  We had a lot of fun discussing this embezzlement case that lit up the news media for the extravagant lifestyle of the embezzler. In fact, this podcast was so much fun, I have added embezzlement cases in the news as a regular podcast. You won't want to miss this one!
---
November 23: How To Plan for 2021 Success During A Pandemic
  In this episode, Susan is joined by internationally recognized speaker, consultant and dear friend, Debbie Castagna, to talk about how to make annual plans when you have no idea of what is ahead. They highlight lessons learned from 2020, how practices need to move forward, and how to build a viable Annual Plan for the practice, in spite of the pandemic.
---
November 9: Payment For Service – What A Concept 
One of the constant threads (of many) Susan sees in her embezzlement cases, is not collecting payments at time of service, which is strange for embezzlement cases. Linda Valencia and Jody Catalanello from Mosiac Management Group discuss how to implement sound collection systems in your practice.
---
October 26:  Get A Grasp Of The Obvious
  Two consultants with a fifty year combined wealth of knowledge talk about hot topic in dentistry. Sandy Pardue of Classic Practice Resources shares her knowledge and tips in five obvious choices for the days ahead.
---
October 12: Following Your Passion To Build A Viable Business
In this episode, Susan shares with us heartwarming stories of her colleague and dear friend, Sally McKenzie, who passed suddenly September 1. Sally was an incredible business woman who provided an abundance of wisdom, guidance and grace for over 50 years to the dental industry and beyond. Following her passion was the key to her success.  
"Stress divided can be handled together."
---
September 7:  Not All Banks Are Created Equally!
Some do not offer many digital services but plenty of relationships. Some offer tons of digital but nothing on relationship. There is much to be learned and guest, Katie Carlson of Frost Bank, provides valuable inside into small business banking. Tips on how to work with your commercial banker as well as how important is maintaining your credit score.
---
September 4: Assuming Payroll Tax Deferral Liability? 
Are you thinking of implementing the payroll tax deferrals in your business?  You will want to listen to this quick podcast before you make that decision.
---
August 24:  Thinking Outside The Box 
 Susan believes businesses grow by evaluating what has made other businesses successful. This episode gives insight to
Jazzy Jems
, a successful boutique business owned by
Entrepreneur Teenya Blanchard
.  Listeners will grab true "jems" in learning how this business has evolved through some major business hurdles, even losing power while recording a podcast!
---
August 19: Ethical Behavior in Dentistry with Susan Gunn
 Susan was a guest on the
A Tale of Two Hygienists Podcast
(Episode 241).  It was a great episode talking about a much needed topic during these trying times. Ethic areas: looking at the gray area of legal yet unethical behavior, how social and workplace culture shape our ethical codes, employees who steal, and so many other ethical topics.
---
August 13: Do You Have A Little Stress In Your Life Right Now???
If you have not had a little stress in your life this year, you have  lived under a rock! Life Change Units (LCUs) have never been higher in our lives but what does this mean?  Add conflicts with each other, listen to Susan's guest,
Denise Ciardello
of Global Team Solutions, as they explore solutions. Conflict cannot be ignored. Most often, it worsens. If you are feeling a little stress in addition to conflict, this is an episode you will not want to miss.
---
July 29:  Choosing To Embezzle: What Were They Thinking:
  If you own a practice for 30 years, SOMEONE you trust will embezzle from you. To think otherwise is negligent. Not implementing valuable systems will be the compost an embezzler needs to cultivate fertile embezzlement grounds. Embezzlers can grow in those conditions and what they produce will be high yield. Three relevant observations from the
American Dental Association Council of Dental Practices
Survey on Employee Theft in the Dental Practice
 and three obvious measures to put into place.
---
July 10:  Organize & Vitalize Your Workflow Space  
So much of the worldwide workforce has found themselves quite abruptly working from home, in a potentially incongruous work space. Kids trying to do online classes, spouses also working from home – Facebook posts are full of both frustrations and humorous insights. Andrea Greer from On Point Space joins the conversation and provides valuable tips on how to purge, how to view your space and how to freshen up your space to enhance creativity.
---
June 17:  Overseeing Practice Revenue – What's Changed?
  Learning to be nimble is what
Virginia Moore of Moore Practice Consulting
wisely recommends when she joins Susan for this candid discussion regarding how to review a practice's revenue. PPE patient fees, practice reports to review, using Dental Dashboards, collecting payments – these are just a few of the deeply discussed topics.
---
May 21:  Your Best Year Yet?
   Most everyone I have spoken with the past few months have declared this was going to be their best year yet in business, in whatever business they owned. Then, it came to a stop. Susan loves history and takes a dive into the past. World War 1, the Spanish Flu, the Roaring 20s and he Great Depression all happened within 11 years. There are some key takeaways.  Then, Susan brings up-to-date information on the PPP & EIDL tracking guidelines, Mortgage Forbearance vs. Deference and a few other timely details.
---
April 24:  Seeing Patients Again – Not as Easy as it Sounds
Teresa Duncan of Odyssey Management
joins Susan for a lively discussion about insurance and the returning patients. This is a must listen show as they explore what is going on in the dental insurance industry and what to expect going forward.
---
April 10: What Now – The forever cycle of "have I done everything I need to do?"
Janice Janssen, CFE
, joins Susan at the table to discuss key takeaways from the unemployment, PPP and EIDL, as well as four specific protocols to be working on now.
---
April 1: It's No April Fools COVID-19 Relief Money
  Not to be redundant, but
Kate Willeford, CPA
brings us up to date information regarding the CARES Act and the valuable information that can help you as a small business and employee weather this financial crisis.
---
March 27: More From The Twilight

Zone
Kate Willeford, CPA
has become a regular guest at the table to more information to practices, from visiting bill information to checklists to strong suggestions. Another Emergency Checklist is provided to download.
---
March 18: The CoronaVirus Twilight Zone Episode
Kate Willeford, CPA
joins Susan at the table again to bring current information on shutting down your practice. A handy checklist is available to download.
---
March 14: Is The Sky Really Falling?
Guest
Kate Willeford, CPA
& Susan offer some great tips to wade through the uncharted waters ahead.
---
June 19, 2019:  Money In, Money Out
on
Nobody Told Me That
podcast with Teresa Duncan. The combination of our insight on this episode prevails to financial management wisdom. It's a great audio edition to the book of the same name and it's free!
---
November 16, 2018: Behind The Smiles
on
YAPI's Podcast Network
with Gina Dorfman, DDS discussing my favorite topic, embezzlement.