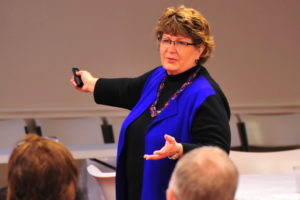 Ethics Is A Choice
With a firm belief that ethics is for everyone, Susan has developed a course for the whole office. Not only does she outline the fundamentals of understanding ethics, but she also demonstrates how our codes of ethics directly affect our behaviors and choices in the workplace. Integrity is ultimately an individual choice that impacts the whole business. Learn more.
Audience members discover the meaning of ethics, the influencing factors at play, what happens when we violate our integrity and how to build a lasting code of ethics in a professional practice.
Learning Objectives
Comprehend the basics of ethics
Connect business ethics with personal ethics
Identify who and what influences ethics
Understand a seared conscience
Know the five corporate models and how they apply in a practice
Develop a personal and professional "Code of Ethics"
---
Who's Minding the Radar?
In true storytelling fashion, Susan takes her audience back to the Atlanta tornado that plowed through her room at 130 mph. This riveting keynote combines a whirlwind story with three key universal principles that apply to life both in and out of the workplace.
---
Oh Say, Can You See?
American history teaches us applicable lessons for our lives. Susan takes her audience on a historical tour of the events that have built America and how they pertain to everyday business activities and life lessons. Tour stops include the Alamo, the War of 1812, the Civil War and a few other notable moments.
---
Meeting Planners
Inspire your audiences with an Agent of Change. Pulling from a deep well of knowledge, Susan Gunn laces a quick wit with a sense of humor,  resulting in captivating and enlightening her audiences.
Your event, your way. Susan aims to always meet your needs as a meeting planner by offering custom speaking presentations tailored to your audience and event.
Susan is on a mission to ignite change. With over twenty years in the business and hundreds of speaking engagements under her belt, Susan speaks with a mission to encourage audiences to do the right thing.
Presentation Types:
Keynote: up to 2 hours
Workshop Half Day: 3 to 4 hours
Workshop Full Day: 6 to 8 hours
All presentation lengths are customizable to your meeting's needs.
Equipment.
An LCD projection system with an audio patch and a wireless lapel microphone are required for all presentations.
Fees.
Many factors determine the cost of the presentation:
Travel time, distance, and cost
Presentation length
Presentation options, which are chosen by the host. The fee is all-inclusive, including honorarium, travel, lodging, and expenses.
---