The dentist who was hosting me graciously treated me to dinner at one of his favorite places, prior to speaking the next day.  About 15 years older than me, he was the same age as my sister and the conversation quickly flowed to growing up.
As it flowed to Vietnam, where he had served as a dentist,  you could see and feel the cloud pass over the table as he spoke of his time there.
Quietly he said, "I had a good friend from dental school killed in Vietnam. He was the only dentist killed in Vietnam."
"I know. His name was Perry Mills," I replied softly.
The shock on his face grew into a knowing look.
"That's right – you are from Arlington."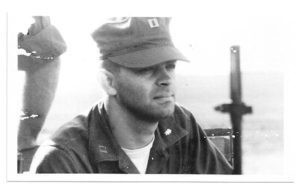 Lieutenant Robert Perry Mills, Jr. grew up in Arlington, graduated from Arlington High School and the University of Texas School of Dentistry in Houston, where I have spoken many times, not realizing it was Perry's alma mater.
I think he had been out of dental school less than a year when he became a naval dental officer serving with the marines, forward deployed so that it would be easier for him to provide treatment sooner.
At 25 years old and in Vietnam less than 3 months, a mortar blast blew up his dental clinic/barracks just five miles south of the demilitarized zone.
He was married with a very young daughter. He was a dentist, not in combat. War knows no boundaries.
I knew him because Perry and his wife, Gloria, were close friends in high school with my sister. Their families were family friends. They were in each other's wedding. They were in and out of the house I was growing up in.
I remember Perry – mostly his smile – and I also remember the overwhelming sadness when he was killed. In an instant, he was gone.
One day to remember as a nation, does not compare to remembering every day that his family faces. Yes, life moves on, but not without an emptiness, a place in the heart that was once filled with the brightness of that loved one.
So many times in the past 21 years of working with dentists, I have thought of Perry. He never was afforded the opportunity to have his own practice or to work alongside other dentists. He never was afforded the opportunity to join a study club or to attend a conference. He was never afforded the opportunity to enjoy the camaraderie that they share together.
He never even practiced dentistry long. Or for that matter, he never even practiced life long.
He would have enjoyed knowing that I am consulting in the dental industry. I was the rugrat that poked my nose in their business every chance I got. I guess that hasn't changed!
Perry is just one of the 58,220 US military casualties in Vietnam and only one of 23 from my hometown. Though the Vietnam war was so controversial, each one of them died defending their country.
Over 5 million Vietnam War POW bracelets were sold throughout the US with the names of known POWs or MIAs.  Some names listed on those bracelets were freed and returned home. Some remains returned home. Some remains were never found. For some it was never determined what happened to them, except they did not return home to their families and friends that longed every day for his presence in their lives.
There are 1575 Vietnam soldiers that are unaccounted for: 833 known KIA whose body was not recovered, 34 that died in captivity but remains were not returned, and 708 presumed dead.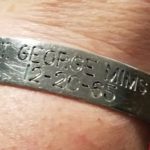 My soldier's name was Capt. George Mims, Jr. He was a 25 year old from South Carolina and had only been married one month.
His plane was hit on his very first mission over Vietnam.  Only pieces of the plane were seen falling from the sky. But, his pilot, Captain Bob Jeffrey was one of the POWs released from Vietnam in 1973. Captain Mims remains have never been found but it is believed that he was KIA. I cannot even begin to imagine never knowing what happened to my loved one, though knowing would not necessarily ease the loss.
I still have my bracelet and through the years have prayed for Perry's and George's family.  25 years old is too young. If you had a bracelet, post the name below so we may remember them.
Today, I remember these two, Lieutenant Robert Perry Mills, Jr. and Captain George Mims, Jr., for their service to our country. May we never forget your sacrifice.