What a whirlwind the last few weeks have been. So much to sort out and figure out, and then once you figure out how to "play the game," someone changes the rules.
Truly we can say we have never experienced anything like it and I hope we never do again. However, IF something like this were to happen again, I hope you have made action plan lists from your experience now.
One of the games that changed constantly was the SBA Paycheck Protection Plan (PPP) & Economic Injury Disaster Loan (EIDL). It was mind-boggling.
Now the well has run dry. Some have received or will receive their funding. Others will not. There are still many questions surrounding the EIDL and when it will be funded as that money is not monitored by a lending institution but the SBA itself.
What has not changed is the PPP was designed and approved to be used within an 8-week window.
The clock starts ticking the day the SBA PPP money is deposited into your account.
You have 8 weeks of transactions to track: payroll, health benefits, retirement benefits, utilities, mortgage or rent, interest payments on debt obligation (incurred prior to 2/15/2020). 75% of the PPP is to be spent on payroll costs, which include "owner compensation replacement." The loan forgiveness (at this writing) appears to be based on how the money is spent over the 8 week period. Therefore, tracking how your money is spent is vitally important!
Be mindful of a few things:
If your business location is owned as a separate business by you, and the business pays you rent, the rent is established as to what it was prior to February 15, 2020. In fact, mortgage payments and utility payments are frozen as to what they were prior to February 15, 2020.
There does seem to be some questions over what is the difference between payroll costs and owner compensation replacement and if the latter is a part of the 75% payroll rule.
If you have received a PPP or EIDL, you will need to track these, whether through your CPA or in your QuickBooks. If the CPA, feel free to share with them this article. If in your QuickBooks, how you track it depends on whether you are currently using Class Tracking. Class Tracking is typically used to track various aspects of a business or, most often, multiple locations. I have a couple of solutions, either way.
If you are not at this time utilizing Class Tracking, this is the easiest way to track the loan.
In QuickBooks, Edit > Preferences > Accounting > Company Preferences > Select "Use class tracking for transactions.
Lists > Class List. At the bottom of this window, Class > New. Enter PPP in the Class name. A class field will be shown on every transaction window now: every register (check, credit card, liability, etc), write check, deposit windows.
Lists > Chart of Accounts. Account > New. Create an Income Account called "COVID19 Relief" or "SBA Loan." When you make a deposit into your bank, designate the deposit to this account AND choose the Class PPP. If you enter deposits through the bank register window, you will need to click the Splits button (bottom left) to see the Class field.
75% is to be used for payroll. Therefore, you must track the employee checks and liability checks. If you have an outside payroll company processing your payroll, you normally enter three amounts in your register that are withdrawn from your bank account: Net payment amounts either direct deposited in the employees accounts or the paycheck amounts if printed, payroll taxes and the payroll company's service charge, all withdrawn from the business' bank account. When entering these three amounts, choose the Class PPP for each transaction.
Do the same thing as above if you download each employee's paycheck into QuickBooks – choose the Class PPP.
If you are processing payroll through QuickBooks, QuickBooks has completed an update of payroll items, adding a National Paid Leave payroll items and CARES Retention payroll items for you to use. If you are not currently using Class Tracking, use Class Tracking instead of implementing these payroll items. When you process payroll, in the Enter Payroll Information Window, click on the employee's name (blue) and choose PPP in the Class field in the upper right corner, beneath the pay period dates. Click Save & Next to do the same thing in every employee's Preview Paycheck window.
If you are processing payroll through QuickBooks, when you make liability payments, be sure to choose the PPP Class in the appropriate field for state and local taxes only.
For rent and utility payments, and anything else decided that meets the criteria of loan forgiveness, if you enter these transactions through the Check Register window, click the Splits at the bottom left to access the Class field. In the Write Check window, it is on the far right of the check voucher section.
Reports > Company & Financial > Profit & Loss by Class. Be sure to start the date range on the date your PPP loan was deposited into your account. Review the expenses not in the PPP Class to make sure you have all the allowed expenses.
Upper left corner of this report, click Customize Report. Select % of Income in the bottom right. Click the arrow down to the right of Display columns by and choose Total Only. In the Filter tab, choose Class then choose PPP. This narrows the report to just your PPP income and expenses and displays the percentage of the loan being spent on the various areas. In the Header/Footer tab, in the Report Title Field, edit the Report Title to be PPP Loan Tracking Report. Click OK.
Memorize this report to use for the next 8 weeks. Run this report every week to ensure you are using your money as directed.
If you are also receiving funding from the EIDL, create another Class called EIDL and follow the same instructions above.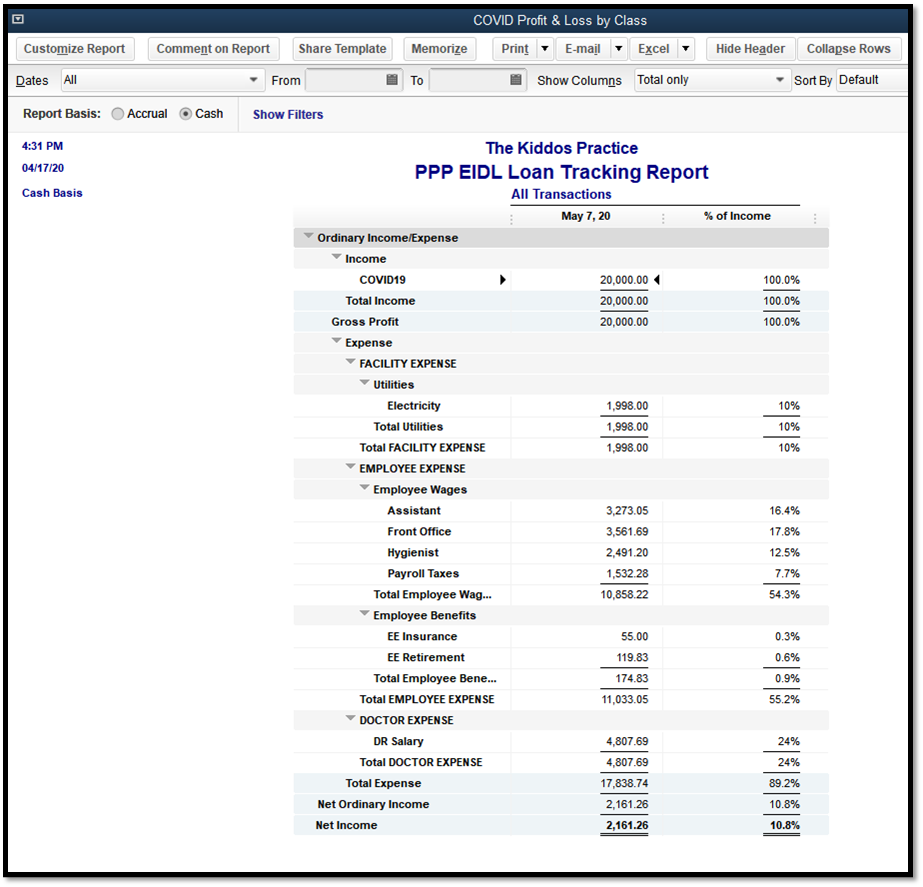 If you are using the Class Tracking option, each transaction only allows for one Class to be selected. Therefore, the Class Tracking option is not your solution. There is a solution, albeit it not as easy as Class Tracking.
Lists > Chart of Accounts. Create a Bank Account called PPP EIDL as a subaccount under your primary checking account.
When you create payroll or pay liabilities or rent or utilities, enter it under this "bank account."
Because it is a subaccount, you will still be able to reconcile the primary account, as all subaccounts are a part of the primary account.
The report is not as great but do-able. Reports > Custom Reports > Transaction Detail. Click Customize Report. In the Filters tab, choose Account > Multiple Accounts. Select All, then deselect Checking Account and Savings Account, leaving the COVID19 subaccount chosen. Deselect also Credit Card liability accounts and business loan accounts that are not to be tracked for the PPP and EIDL.
In the same Filters window, choose Detail level on the left and then Summary only in the middle. Scroll down on left to Transaction Type and choose Multiple Transactions. In the pop up window, choose Check, Deposit, Bill Payment, Paycheck and Payroll Liability Check. Click OK.
In the Header/Footer tab, edit the Report Title to be PPP EIDL Loan Tracking Report. Click OK.
There is no % of income available for this report but it will give you a balance and a total.
Memorize this report to use for the next 8 weeks. Run this report every week to ensure you are using your money as directed.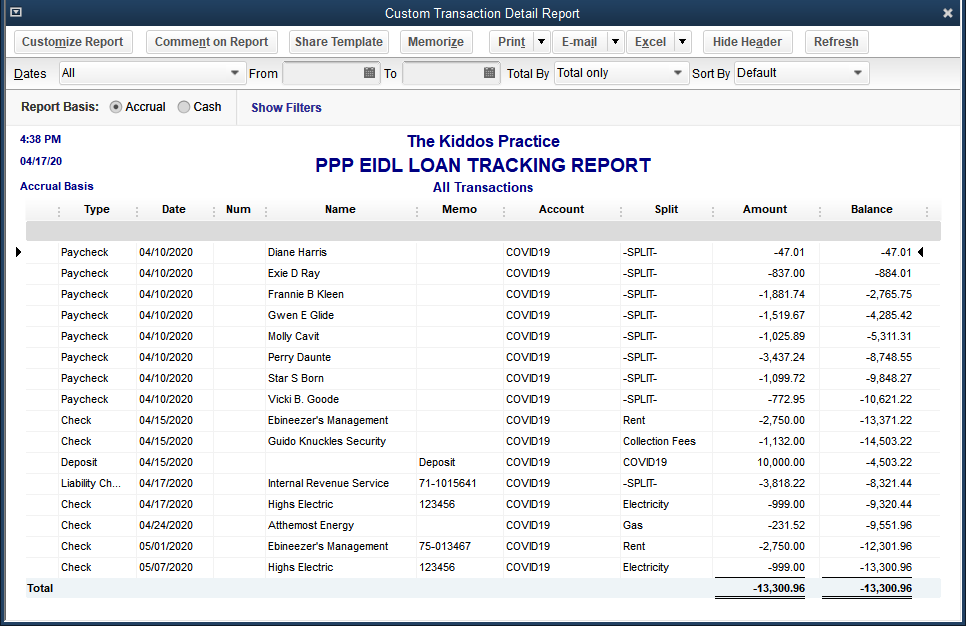 Daily the landscape changes the tracking requirements. However, I believe these are the best options for tracking under the current guidelines.
I hope this clarifies how to best track the funds this loan is provided for.  If you have any questions, feel free to contact me.