If it looks like a duck, swims like a duck, then barks like a dog, then it probably is not a duck.
A colleague of mine received a scam email that you need to be aware of.
The problem is there are so many scams developed to look like ducks, and it even looks like it swims, but when you look a like closer, it starts barking. The key is in paying attention.
The email looked real to my colleague. It was asking for a credit card to keep her QuickBooks current. She had just changed credit cards but questioned the email because she had purchased the QuickBooks desktop version only six months ago. In other words, no credit card was needed.
The email address was qbhelpdesk@billingintuit.com. This is not @intuit.com. She called the phone number but the phone call did not go through, did not ring, nor was there any auto answer message.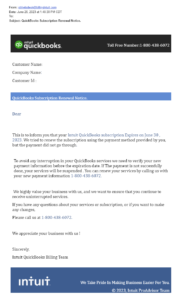 There are LOTS of red flags:
The email URL is not the correct url.
They asked for credit card information to be verified, NOT to go to the Intuit login and update info.
Intuit always has someone answer OR there will be an auto answer.
Emails sent from corporations will not have multiple grammar or punctuation errors.
Will scams ever go away?

No.
Homer initially spun part of the Trojan Horse story in the Odyssey (800 BC), but then Virgil expanded the tale in the Aeneid (29 BC). Long story short, the Greeks built a large wooden horse and hid warriors within the horse. They left their horse outside Troy's gates and appeared to sail away. When the Trojans pulled the horse into their city of Troy, they were attacked by the forces that hid within. Even back then, Virgil understood our weakness to believe something that is not true.
Scams are built to fool the recipient, just like the Trojans were fooled in the story. For 2300+ years, our lives have been interrupted by those that would prefer to trick or deceive us for their own gain. This is nothing new, though the tools they are using are new. All this means is for us to be vigilant, to not let our guard down. One of my mantras: If something doesn't feel true, who has something to gain?
Any phone call, email or website asking to verify financial information should never be given any thread of financial information. Do not verify mailing addresses, email addresses, credit card numbers – anything – via any source.
Another scam beware
Along those same lines of "If it looks like a duck, swims like a duck, then barks like a dog, then it probably is not a duck…"
During the pandemic, a client called a company he thought was Intuit's QuickBooks support. He had internet searched for the phone number and called the number he found. He stated he could hear the noise of it being an overseas call center but Intuit using overseas call centers, so that did not cause him concern. Frustration, yes, but not concern. After they remoted in to the practice computer he kept QuickBooks, they said his QuickBooks data file was corrupted. They could fix his problem for a cost of over $600 but he would need to send them the QuickBooks file. When he hedged at both the price and the sending, they quickly stated the cost was an estimate and if he waited, it could increase. The pressure sales tactic did not work and he hung up.
THEN he called me, which he soon knew he should have done first.
Never give anyone access to a practice computer unless you have a signed Business Associate Agreement (HIPAA).
Never give anyone access to a practice computer unless you have a working relationship with them – IT, your consultant, your CPA, me
Always verify with someone you trust. He called me. It was not a corrupt data file. It was a scam. It was a very simple fix, which took about six minutes to diagnosis and fix.
Just because it is on the internet, does not mean it is true. In owning a business, whatever that business happens to be, discernment is a required skill, of which must be applied daily. In consulting practices, that discernment is turned on full force, to the point some times, I am quite literally exhausted from all I have had to decipher in a clients dilemma.
The daily onslaught of email scams, fake phone calls and door to door cons are overwhelming. It is not just your car warranty any longer.
Remember, if it looks like a duck, swims like a duck, then barks like a dog, then it probably is not a duck.
Do not let your guard down. Deception abounds.  If I can help you, call or email me.