There have been many Intuit's QuickBooks changes over 30 years. I have been teaching and writing about QuickBooks for over 28 years, starting with my first book, QuickBooks 1.0. It has certainly been a journey of drastic changes trying to keep up with an evolving technical environment. I was one of the first QuickBooks ProAdvisors and Advanced QuickBooks ProAdvisors. But some of the changes and directions Intuit has taken, I have not been entirely on board with.
Many practices made the transition to QuickBooks Online these past few months because they felt there was no other option. They received emails and phone calls soliciting the QuickBooks Online migration. And some made the transition to QuickBooks Payroll Online because they felt there was no other option. Some are happy with the transition. Some are not happy at all.
A Recent Email
"Any updates for suggestions regarding the impending transition where QuickBooks is trying to move everyone to a subscription? One of their employees contacted my office today and spoke with one of my employees. They are ONLY planning to charge our office $500 per month plus $6 per employee for their subscription. Unreal! I typically pay less than $300 to buy QB Desktop from Costco then use that version for at least 3 years. In one of your previous newsletters, you had forecast this event and I think you mentioned you were looking at other options. I know you don't particularly like QB Online. What other suggestions do you have? Thanks so much,"
I replied:  "Unfortunately, the QB Desktop sales are completely controlled by Intuit at this time. There are no longer any retail sales from Costco, Sam's, Amazon, Office Depot – no one. AND, to upgrade you must call Intuit, where they will try to convince you to go online. BUT the communication I have received from Intuit is that there WILL be a desktop version still available. And you can purchase it at this time, by calling. I am not, however, certain it will be the Pro version but the Premier version instead.
They are to imminently release the new version.  And it will be more expensive than what you paid 3 years ago. Everything is more expensive than 3 years ago. But if you need to upgrade, best do it now. The new product will certainly not be less.  It seems there are 2 different areas you are talking about:
being the software itself
the other being payroll.
I released a book in April called Managing Accounts Payable in Your Practice (Amazon). Sounds like I wrote the book for you! I did extensive research on the online solutions and answered a ton of these questions in the book, including payroll services, banks, CPAs, et al."
No one can force you to do something that you do not want to do.
Even Intuit.
I have been told that if you keep your Intuit login (NOT your QuickBooks login) profile updated with a current credit card on file (for subscription renewals), then you will remain current and not lose the ability to use the desktop version. I have also been told that if you still want the QuickBooks Pro 2023 or a desktop version for $599, that you can call 800-568-0073 to purchase. The QuickBooks Premier software is $799 and can be purchased online. QuickBooks Pro 2024 will be released on or about October 3, 2023 for $649.. Yes, this is yet another price increase from Intuit. Do not shoot the messenger.
Online Price Increases Again As Well
QuickBooks Online pricing has also increased. Each QuickBooks Online option has increased $5 per month, $60 per year, beginning in either August or September depending on your current option. In the same email, they stated "QuickBooks Desktop 2024 and QuickBooks Desktop Payroll pricing changes will be announced in early August. We're making enhancements to our QuickBooks Desktop 2024 products that we look forward to sharing with you later this year."
IF you are using 2022, you could purchase 2023 prior to October 3 for the old pricing….
More information regarding Intuit's price increases here.
Managing Accounts Payable in Your Practice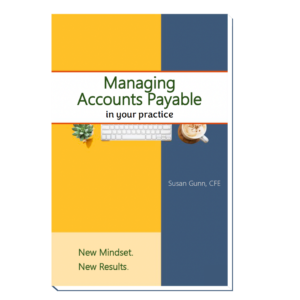 There are tons of online accounting software options, which is why I wrote my newest book, Managing Accounts Payable In Your Practice. When Intuit started rattling their chains about everyone moving to the online version, I decided it was time to write a book that explores all the available options. They are not the only online option.
Managing Accounts Payable in Your Practice explores all the top cloud-based accounting options at this time and how to choose the most appropriate for your practice, as well as how to choose the most appropriate payroll service and CPA for your practice. It includes the best design for your accounts payable software, whichever you decide to use. Also included is extremely valuable information about financial institutions, credit card companies and merchant card services.
I might have written my last QuickBooks In Your Practice book last fall. 44 of my 48 books have been the QuickBooks In Your Practice series. The 2022 version is a combined book that includes advance features previously separated in its own book, Advanced QuickBooks in Your Practice. My first QuickBooks in Your Practice book was written in 1997 and the first Advanced book was written in 2004, in order to help those that were using more of QuickBooks than most practices. Now, I combined the two, eliminating typically unused features.
The QuickBooks desktop version has changed very little in the past few years, so if you are using QuickBooks Pro or QuickBooks Premier, the 2022 version will be the book you need to help you create a viable accounts payable system in the desktop software.
At this moment, the Kindle version is being compiled and should be available soon, if that is your preference of reading.
Intuit's QuickBooks changes over 30 years, but what hasn't changed? It is all a process of deciding how to evolve with those changes. If I can help, let me know!