It was on one of my mom's hospital visits that I had a most interesting conversation with her doctor. He had just received a phone call from a title company in another town and state asking if he was going to make it to the closing of his new home. Not only was he not going to make it, but he didn't even know he was in the process of buying a new home, let alone moving to a different state.  A quick credit check revealed he was indeed a victim of identity theft.
To say my mom's doctor was stunned would be an understatement. His attention, understandably, was far from focused on patient care during that appointment. But he walked into the right room, with the right patients who could help him. My mom perked up as the doctor and I developed a plan to help him out of his crisis. The notes he took that day were not on patient care but on personal credit care.
The new Economic Growth, Regulatory Relief, and Consumer Protection Act went into effect this past week.
One aspect of the act allows consumers to freeze and unfreeze their credit at Equifax, Experian, and TransUnion (the three major credit bureau) WITHOUT being charged. After the Equifax breach was disclosed last year, I recommended freezing your credit at each of the bureaus, in spite of their charging. It was a small fee to pay for security.
As a result, credit bureaus generated revenue on the freezing/unfreezing fees. We're talking 143 million consumers, all trying to protect their data, and rightfully so. I was one of them.
According to an online survey by the Harris Poll, nearly 60 million citizens stated they have been affected by identity theft this year already.
The number of identity theft victims has increased from the same survey conducted in 2017. Once these thieves have your personal information, it is an easy step to steal your credit. Making the freezing free for the consumer will now make it easier to protect yourself.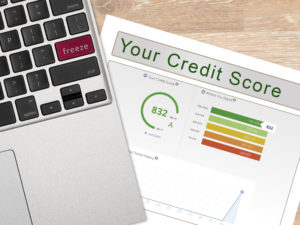 Parents can freeze children's credit under 16 years old. Guardians can freeze credit of dependents, such as elderly.
The new law allows to not only freeze your credit but allows parents to freeze the credit of their children under 16 years old for free, as well as guardians, conservators, and those with power of attorney to freeze their dependents. Since the elderly are often the victims of identity theft, this is great news for the family, with the appropriate power of attorney.
Freezing your credit is the ultimate form of identity theft protection.
If your credit information is breached and your credit is frozen, no new credit can be established in your name. It prevents lenders and others from reviewing your credit history. The credit freeze could be inactivated in the event of a new purchase or credit application, but that must be done by the consumer prior to purchase.
The new law also extends the length of time for a fraud alert from 90 days to one year.  If a fraud alert is activated on an account, it requires the business to contact the consumer prior to credit approval for a new account. If you don't want to freeze your credit, you can activate a fraud alert.
What a credit freeze doesn't do is protect credit already established, for instance, credit cards.
If your credit card number is breached, it can be sold on the dark web, duplicated to appear to be a valid credit card in that name and used anywhere that will take credit cards until the credit card company or the consumer catches the fraudulent charges.
If your credit card numbers or bank account numbers have been compromised, it is still the safest bet to cancel those accounts and receive new numbers, in addition to freezing your credit.
In a ten year period of time, most of us make few major purchases that require new credit to be established. Freezing your credit is still the best path to protecting your credit.
Now that freezing your credit is free, here is what I suggest:
Contact each of the three bureaus using the links below to freeze your credit:
Or you can call the bureaus:
Equifax – 800-685-1111 (NY residents: 1-800-349-9960)
TransUnion – 888-909-8872
Experian – 888-397-3742
If you ever believe you have been a victim of identity theft, please read the information on identitytheft.gov
If you need to lift the credit freeze and call by phone, the bureau must respond within one hour, according to the new law. However, if you know you are going to make a major purchase requiring new credit, do not wait until the last minute to unfreeze your credit. Be wise and remember you must contact all three credit bureaus to unfreeze, just as you did when you froze them.
If you have children under the age of 16 or are a guardian with appropriate power of attorney for an individual, freeze their credit. No one under 16 years old should need to get a loan.
Never ever click on an email link to your "bank account" or "credit card account" or verify a password of any kind. They will not contact you via email. Call them, not the number potentially supplied by the email, but the phone number you have for that institution, and verify the email is fraudulent.
Never answer those cute social media "Let's have fun" with all your personal information. Just yesterday, I saw one asking your parent's names. With those answers, I can find you, your personal information and determine credit accounts, etc and put you on a list of easy targets. I would never do that but a thief would. Beware.
Create strong passwords. At least 8 alphanumeric characters, upper and lower case letters and a symbol or two thrown in for good measure. If the entity requiring passwords allows more than 8 characters, then get the happy median: 10/12.
If you have read my prior articles and blog posts on the importance of protecting your information, but you have been procrastinating, stop. Now is the time to change, not after an identity theft.